Sri Lankan political parties mark CPC centenary

Updated:2021-06-22 10:38:29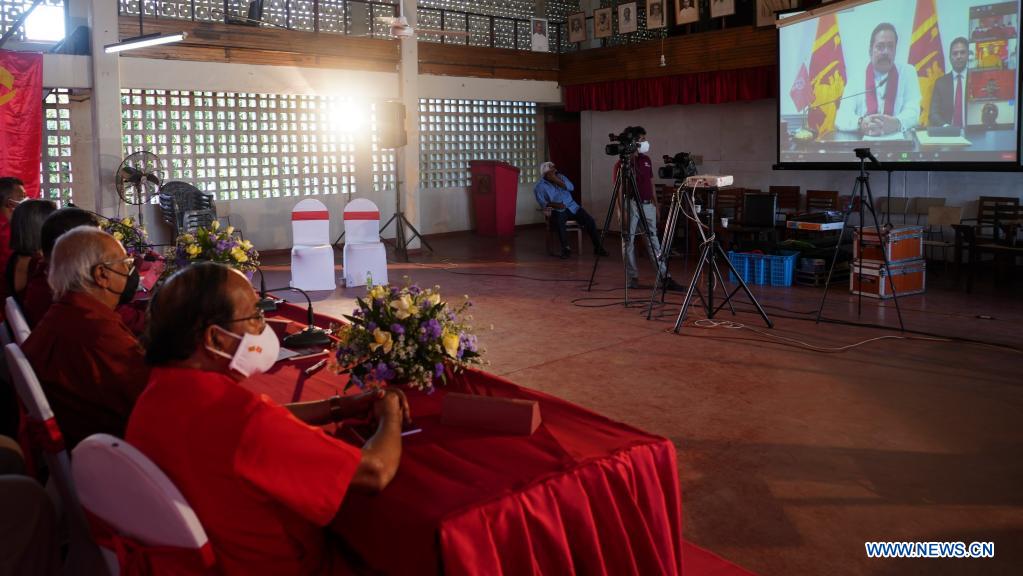 Mahinda Rajapaksa (on screen), prime minister and leader of the ruling Sri Lanka Podujana Peramuna, delivers a speech during a virtual conference to mark the 100th anniversary of the Communist Party of China (CPC) via videolink in Colombo, Sri Lanka, on June 15, 2021. Leaders of major Sri Lankan political parties and cabinet ministers have attended a virtual conference to mark the 100th anniversary of the CPC. During the conference hosted by the Communist Party of Sri Lanka on Tuesday, Mahinda Rajapaksa, prime minister and leader of the ruling Sri Lanka Podujana Peramuna, made a speech to commemorate the CPC centenary. (Xinhua/Tang Lu)
Leaders of major Sri Lankan political parties and cabinet ministers have attended a virtual conference to mark the 100th anniversary of the Communist Party of China (CPC).
During the conference hosted by the Communist Party of Sri Lanka on Tuesday, Mahinda Rajapaksa, prime minister and leader of the ruling Sri Lanka Podujana Peramuna, made a speech to commemorate the CPC centenary.
"We appreciate the commitments made by the Chinese Government for our independence during and after the war, forever," Rajapaksa said.
Quoting a Sinhala classic to describe Sri Lanka-China friendship, the prime minister said, "The friend will always be there, both in sorrow and pleasure. Like the murals on a wall, they never look away."
Maithripala Sirisena, former Sri Lankan president and leader of the Sri Lanka Freedom Party, said that Sri Lankans are proud of their historic collaboration with China.
Ranil Wickremesinghe, former prime minister and leader of the United National Party, said that the CPC has led China to become one of the largest economies in the world.
Communist Party of Sri Lanka veteran and former General Secretary Dew Gunasekara said the CPC had contributed to the rise of Asia, especially regarding the fight against extreme poverty and the Belt and Road Initiative.
Tissa Vitarana, General Secretary of the Lanka Sama Samaja Party, the oldest political party and first socialist party in Sri Lanka, said the party wishes to strengthen bonds with the CPC.
"The CPC always stood on the people's side and served the people in China to become a powerful nation," said Asanka Nawaratne, general secretary of the Sri Lanka Mahajana Party (People's Party).
From the Chinese side, Song Tao, head of the International Department of the Communist Party of China Central Committee, and Qi Zhenhong, Chinese ambassador to Sri Lanka, also spoke at the event.
Tao reviewed the history of the CPC and emphasised the party's continuous support for its original aspirations. He noted that China and Sri Lanka have similar historical experiences and called for strengthened exchanges and mutual learning.
Ambassador Qi said that the conference "clearly represents the special friendship from different parties of Sri Lanka towards the Communist Party, the government and the people of China."
Up to 11 political parties, including the ruling Sri Lanka Podujana Peramuna and its allies, jointly issued a statement at the conference praising the CPC's domestic and international accomplishments.
Noting that the CPC remains a steadfast champion for developing countries, the statement said the Belt and Road Initiative help such countries improve their infrastructure and production while respecting sovereignty.
It also called for "bolstering mutual support, practical cooperation, and promoting progress and peace" between the CPC and Sri Lankan political parties.
Keywords: Sri Lankan CPC centenary